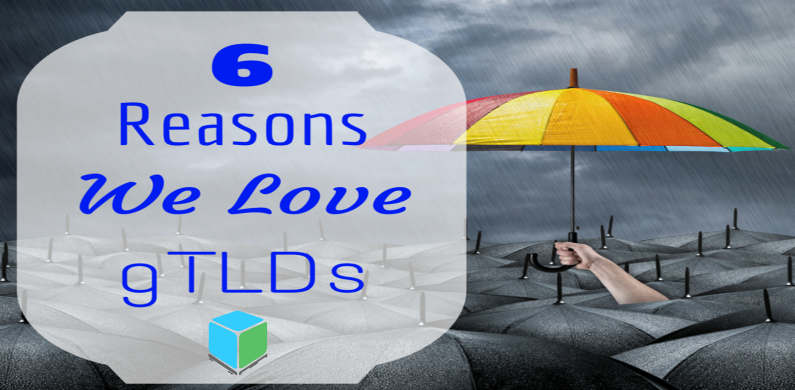 Domain Cost Club is built on the accessibility that generic top level domains (gTLDs) give the domain world. How do these gTLDs work? In the early days of TLD, countries around the world were each granted their own TLD, usually an abbreviation of their country name. These are referred to as ccTLDs. People had the ability to buy the ccTLD for their country or purchase another top level domain (TLD) like .org or .com. With such few options, pricing was high for these domains and the options to creatively brand were low. In recent years, the governing body of the domain industry, ICANN, began releasing generic domains, gTLDs, opening up the domain industry and internet like ever before. Still not convinced why you should be interested in these gTLDs?
Here are a few reasons we love them:
1. Branding
gTLDs give you the option to brand your entire web address, not just the root domain. With the right TLD you can brand your domain as "www.sonnys.restaurant" rather than just www.sonnysrestaurant.com. This allows for a shorter domain and tells your website visitor what your site is all about before even hitting your landing page. Consider all the ways you can brand your business or yourself now that you don't have to work around (or pay for!) .com.
2. Price
gTLDs are available for yearly registration for varying amounts. A browse around the DCC website shows that we offer domains for just a few dollars per year to closer to $100 per year. But despite some of these prices, most gTLDs are less expensive than .coms. Additionally, gTLDs let you experiment in the domain world without breaking your budget.
3. Fun
Have fun with gTLDs like .ninja, .coffee, and .flowers. These domains let you brand your business or just have fun! There's nothing fun or special about .com, but unique gTLDs let you have fun with your domain and connect with your website visitors in a new way.
4. Possibilities
What ending are you interested in for a gTLD? Chances are, it exists. If you're looking for just the right branding or the domain name that will get stuck in everyone's head, look to gTLDs to fill those needs. Don't feel locked in by a few choices between .org and .com, with gTLDs the possibilities are nearly endless. Even better, you can buy many of the gTLDs right through DCC. DCC is where possibility and access meet for these great gTLDs.
5. Access
Thanks to their price point and sheer number of possibilities, many people have access to gTLDs. This means you have the opportunity to do business with and share domains with many people. Build your portfolio with less expensive domains and help others get started by purchasing their new gTLDs through you. Or, share with others the great pricing available through DCC and get them started on their path to building a portfolio–while earning a bounty yourself!
6. Memorability
Unique and fun gTLDs can often transform into memorable domain names. Having .com at the end of your web address can make it forgettable. With the right gTLD, like .digital or .marketing you can make your web address even more memorable without having to do additional work.
Don't Waste Any Time! Join the Club to Get Access to These Unique gTLDs NOW!