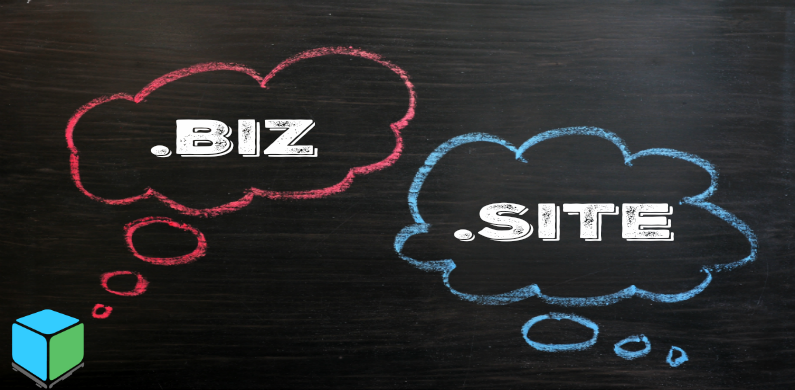 gTLDs can get pretty specific, with domains for everything from .lol to .coffee. But for some people, the right choice is a domain extension that can be applied to many different subject matters of businesses. Two good choices for those people are .BIZ and .SITE. Read on to learn more about these two affordable and versatile new gTLDs.
.BIZ
Why it's popular:.BIZ is old in the world of gTLDs, it's been around since 2000! Being more established than other TLDs, .BIZ is easy to remember and visitors are used to seeing it at the end of the URL bar. Biz, of course, is shorthand for business and many websites are a business or want to get that information across to their customers. .BIZ allows you to brand your website as a business without having a long gTLD. Being shorthand, .BIZ also makes a website business seem more approachable and fun.
Who should buy it: Anyone who is using their website for their business. Think of .BIZ as another TLD like .com, only with much better availability. .BIZ is universal for telling visitors they are headed to a business website before the website even loads. This can inform visitors of what type of content to expect and what services will be provided. Are you a solely online business? .BIZ is a great choice for you as it informs potential customers that your website is the best place to do business with you.
Pricing: .BIZ gTLDs are for sale through DCC for $20.00 for a one year registration. If you're a DCC member, that price goes all the way down to $8.63 with renewal at the same price. It's a smart investment for an established gTLD.
.SITE
Why it's popular: .SITE is a great domain choice for absolutely any site! It is an easy to remember gTLD and won't distract or take away from your domain. Users can even work to personalize the gTLD by using domain addresses like www.tommys.site for Tommy's site. .SITE is also versatile, it can be easily applied to a business site or one used for fun, networking, or any personal use.
Who should buy it: Anyone who might be afraid of committing to a very specific gTLD. .SITE allows you to turn your website into whatever you want and to transform it without having to worry about purchasing a new domain. If you're unsure of how you might use your website, or see it changing in the future, .SITE is a smart choice for you. Anyone who wants to expand the reach of their business should buy and use this domain. .SITE is also a great gTLD to have in your portfolio. People can benefit from the versatility of the gTLD in the same way you can, so its an easy sell!
Pricing: .SITE gTLDs are for sale through DCC for $28.00 for a one year registration. If you're a DCC member, that price goes all the way down to just $5. Build your website or your portfolio with this affordable gTLD today!
Check back at this blog to learn more about the many other gTLDs offered through DCC.
Get Descriptive Domains Like the Ones Above at WHOLESALE Prices! Become a Member of the Domain Cost Club!