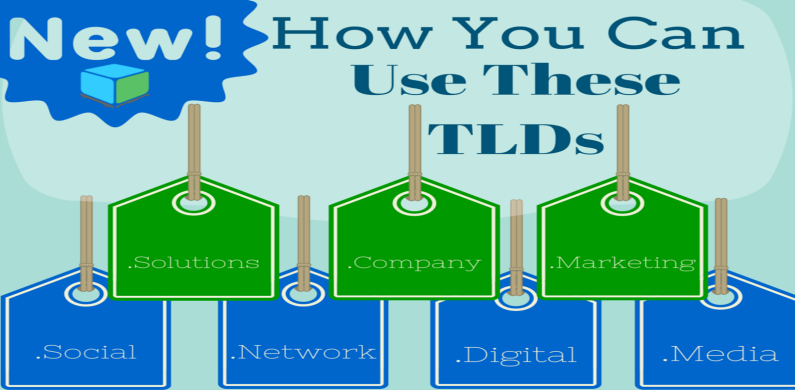 DCC has dozens of TLDs for you to purchase, use, and build your domain portfolio with. This large number of domain gives you many options, but can also be overwhelming. How do you know what to pick? For advice on earning income off your domain, see these posts. For advice on how to use some of these new TLDs, read on.
.network
This domain is a powerful tool for building any kind of network. This network might be one that connects you to potential employers or customers. Consider posting your resume, CV or business services to a domain like www.yourname.network. This is also a great option for building an affiliate network. If you have information to share with your affiliate network, or want to appeal to new prospects, a .network domain is a smart idea.
.solutions
If you own your own business, you're usually offering a solution, whether it's solving what's for dinner or providing financial or consulting solutions. Consider your business area and if solutions is a smart way to market it. If it is, solutions can advertise your business and what you offer right in the name, like www.accounting.solutions or www.cpaconsulting.solutions.
.company
If you're a little wary of committing to a domain that markets your services like ".solutions", consider the basic "company." This is a no-brainer if "company" is in your business name or you would like it to be!
.social
If you offer social media services or just want to offer a webpage that shares all of your social profiles in one space, this is the right TLD for you. If you're providing services or want to start working in social media, consider www.yourcompanyname.social. Just want to provide a resource for people to know more about all of your social media profiles and where to find them, why not www.yourname.social?
.digital
Securing your internet identity is important and there's no better way to do that than with .digital. A .digital domain shows that this is your digital home. Share your work, resumes, news, about you and whatever you'd like on your .digital site–this site shows who you are on the internet on your terms.
.media
.media is a great TLD to share all kinds of media. Consider sharing your business videos, photos, and audio or upload all of your YouTube and Vimeo videos to one place with your .media website. The TLD showcases what people will get when they visit, driving more clicks, as traffic is usually higher for sites with images rather than just text..
.marketing
.marketing is another great option to build your business online. Whether you're an established marketer, or looking into affiliate marketing, this is a great branding option for you. Use www.yourcomapnyname.marketing or try to show off the specific marketing you offer like digital. marketing, or local marketing.
Check Out These Awesome TLDs for sale with Domain Cost Club and Many MORE!