In the world of Internet Marketing, there are many avenues used to increase brand awareness, generate leads for a company, and drive sales. One of the most common, but underrated, strategies used is "affiliate marketing." But what is affiliate marketing actually, and how does it benefit you?
Read on to find out.
What Is Affiliate Marketing?
Affiliate marketing is a performance-based program in which a company rewards their affiliates for each customer brought to the business by that specific affiliate. Think of it as a large-scale referral program. Internet-based affiliate marketing is extremely popular for a number of reasons, including its effectiveness at bringing warm leads to a business, the monetary benefits it provides for the affiliates, and the flexibility it usually supports for both the business and the affiliates.
There are many different structures a business can use to reward affiliates, but all of them a directly related to performance. Those that are simply misinformed, and flat out wrong, sometimes incorrectly compare the concept of affiliate marketing to that of ponzi schemes. Affiliate marketing can employ various multilevel marketing tactics, but never anything illegal. If it's illegal, it is NOT affiliate marketing.
Build A Second Income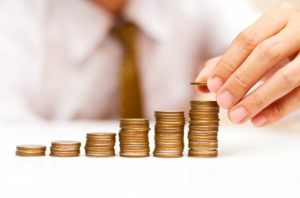 Affiliate marketing is so popular because, as mentioned above, it has incredible earning potential for the affiliates. By putting in the research needed to become an expert in whatever industry the company you are affiliate marketing for, spending time building out your in person and social networks, and honing your sales skills, you could be on your way to securing a hefty secondary, or even primary income.
The great news is that your affiliate income is entirely dependent on your effort. The more you promote the service through your network, content marketing, SEO, social media, etc. – the more money you will make.
The power is in your hands. Utilize affiliate marketing to your advantage and start prospering today.
Give Us An Example
Online membership organizations, like Domain Cost Club, allow you to take advantage of their membership benefits as well as earn secondary income as an affiliate of their services. First, you can become a member of the club to purchase hundreds of domains at wholesale costs. Then, by simply referring people to Domain Cost Club you can start earning commissions as an affiliate. Yes, it's THAT easy. This video explains more clearly just how easy it is to sign up and start earning extra cash.
Click Below to Become an Affiliate for DCC and Start Earning!