In the modern age, everyone has access to unlimited information. Anything you want to know can most likely be searched for and found online. There are many ways to distribute this subject-specific information, including infographics, videos, podcasts, and blog posts. However, the million-dollar question is: how you can use these different channels to spread information and succeed at the same time?
The Essence Of Content Marketing
Content marketing is the business process of creating and distributing relevant and useful content based on a specific subject in order to attract and engage your target audience. The subject matter of your content should always relate back to your brand, product, or service. For example, if your business builds swimming pools, you might write a blog post or create a video explaining to your potential customers how to best keep their pool clean, the differences between salt water or chlorine, or even how to build their own in ground swimming pool following your guidance!
The essence of content marketing is all about providing value. The more value you provide to a potential customer by informing them on topics related to your niche, the more trust you will build. In turn, the more trust you build; the more likely they are to buy from you.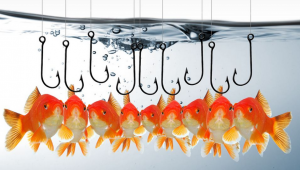 How Can YOU Prosper With Content Marketing as a DCC Affiliate?
Although there are plenty of people who already know what domains they want to own, many people are not aware of the intricacies and value of choosing the right domain, or the hundreds of new top-level domain extensions that are becoming available. However, providing them detailed information in the form of a blog post or infographic can educate them on the importance, and urge them to make a purchase.
If you're an affiliate for Domain Cost Club experiencing success with the program, you may want to create a podcast that shares your story and gives advice to those struggling aimed at individuals looking to earn a second form of income! Educating your audience on the potential of the program, how to overcome obstacles, and tangible statistics on your success could entice a prospect that is on the fence about joining.
Use content marketing to your advantage by educating your customer with valuable information, building trust by providing value, and closing the deal. For more information, check out Domain Cost Club and start on your path to success.
Not a Member of DCC Yet? Click Below to Join!