Whether you're interested in Domain Cost club as a high volume domain purchaser, someone looking for a deal on domain prices, or for the opportunity to earn a second income as an affiliate marketer, getting started is easy!
Listed below is a breakdown of our affordable membership options and the benefits you will receive once you join.
Domain Cost Club Membership Options
Charter Member – 1-time payment of $499 and be able to purchase domains at wholesale prices for life
Club Member – $99 yearly membership fee to be able to purchase popular domains at wholesale prices
Non-Members – Research and compare domain prices for free. Upgrade to member status to stop paying retail prices and receive wholesale domain pricing benefits at any time!
Wholesale pricing is not the only benefit to membership; the chart below details the value of your membership. See details here – https://www.domaincostclub.com/affiliates.dhtml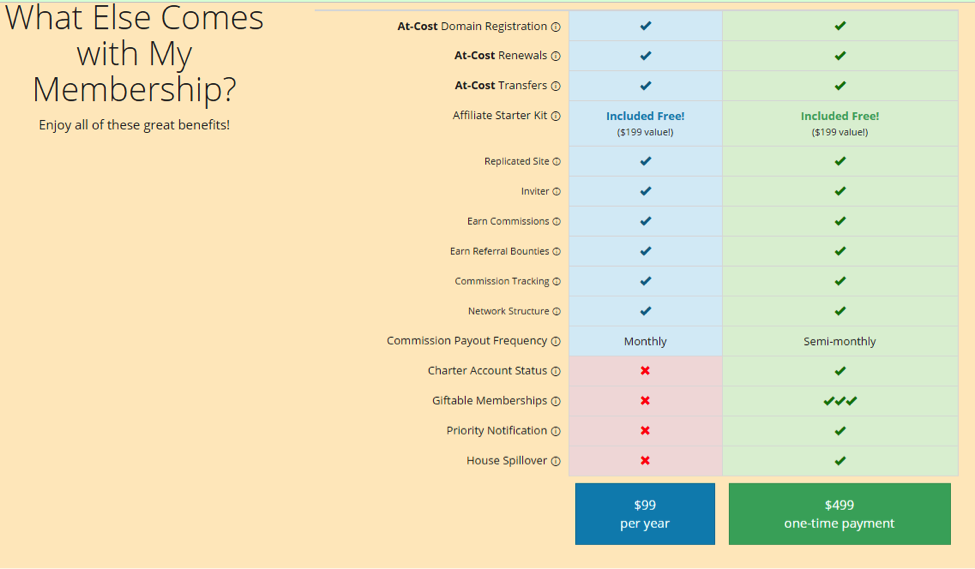 Domain Details
Hundreds of new TLDs are being released – we want to offer them all
No markup – members can register domains with us at wholesale prices
Avoid high priced renewals – members can transfer their domains to us at wholesale prices
Renewals – ALL domain renewals with DCC are at wholesale prices for club members
Business Opportunity:
Club and Charter Members receive commissions for referring new members!
$5 commission for every Club Member
$20 commission for every Charter Member
$20 bounty for direct Club Member referrals
$180 bounty for direct Charter Member referrals
Charter Members also receive:
Sponsorless signups by House Spillover
Non-Members
No income or commission opportunities for non-members – it pays to join!
Need a little clarification on how the membership commission structure works? Check out our easy to understand video!