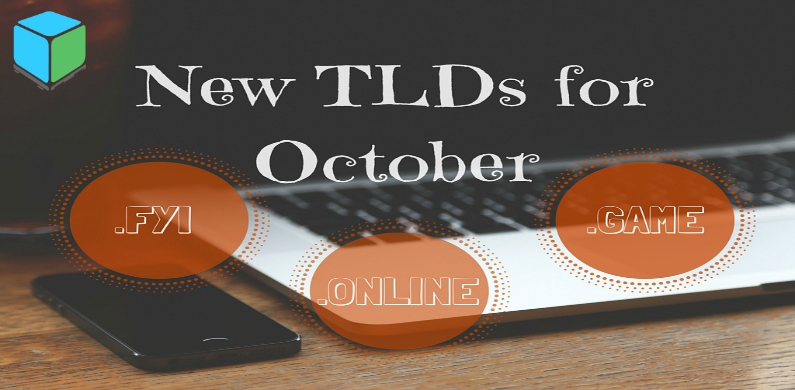 One exciting aspect of gTLDs is that new ones become available each month. If you're waiting for just the right gTLD, check the DCC website for upcoming releases and their pricing. gTLDs like .dog, .movie, and .mba are all released in August, appealing to different groups of domainers and website builders. Read on to get to know some of the most versatile new TLDs for October and how you can use them!
.ONLINE
How You Can Use It: .ONLINE is a great gTLD to debut a brick and mortar business on the internet. How so? Maybe you a own a very popular local restaurant, but have put off getting  website because you do quite well on word of mouth and are afraid long time customers may not be interested. A smart way to transfer your real life popularity to the internet is to add .ONLINE to the end of your new website. Everyone in town loves Edna's Restaurant, and now that you finally have a website, www.ednasrestaurant.online is easy to remember and tells visiors that this is your home online, but they can still find you at your brick and mortar location.
For Your Portfolio: .ONLINE is versatile and can be used for nearly any business. It's a smart portfolio buy because businesses from many different areas and types of services can use it. It also allows people to brand their online identity. Think www.firstnamelastname.online. Perfect for business or personal use!
Outlook: Thanks to its versatility, there is expectation that .ONLINE will be a very valuable and popular gTLD.
Pricing: .ONLINE is available for purchase for $48.00 through DCC, but for members that price drops to just $15.00
.FYI
How You Can Use It: Short for "For Your Information" .FYI seems like a great domain to learn more about a business, industry, or a person. .FYI sites make sense for those with a lot of content and information to share. It's a great gTLD to use to brand yourself as an expert in an industry, think www.socialmediamarketing.fyi to share your social media expertise. The three letter gTLD is easy to remember and with the right domain name, can make for a very short website address.
For Your Portfolio: FYI is a unique domain to include in your portfolio, it's less specific than domains like .coffee or .delivery, but provides more information to a website visitor than .site or .com. Keep it in your portfolio for the right buyer.
Outlook: As more people use the internet to verify businesses and information, .FYI domains could be a powerful gTLD to share this information.
Pricing: .FYI is available for purchases for $28.00 through DCC, if you're a DCC member, that price goes down to $13.00.
.GAME
How You Can Use It: Game creation and development is easier than ever thanks to online tools. Potential buyers can use .GAME to host their game on a site or create a website for fans of games like Minecraft and Second Life to share insights, strategies, and stories about their favorite game.
For Your Portfolio: .GAME is a good choice if you are building a large portfolio or have a network of people with an interest in gaming. It's a more specific gTLD, so only certain customers mays be interested in it.
Outlook: Large corporations like Google and Amazon showed an early interest in .GAMES, so its future remains to be seen, but it could be very bright!
Pricing: .GAME is available for $44.00 retail and just $23.00 for DCC members.
Ready to Take Advantage of WHOLESALE Domain Pricing? Become a Member of Domain Cost Club!