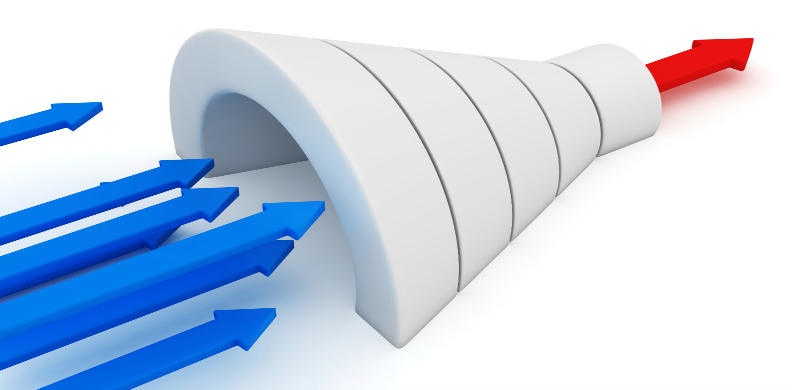 In our last post, we discussed best practices for a landing page that will successfully convert leads. Once your leads click on your ad and submit your form to receive whatever offer you've advertised, they should be directed to a well-designed thank you page.  A thank you page let's the lead know their request has been received and allows your brand to have another opportunity for conversion.
The following are best practices for content to be included on your thank you page:
1. Clean Design
Just as you should have done in your original landing page, make sure your thank you page is clean and easy to navigate. Your visitor should not be confused on what their follow-up options are. Also make sure the branding and design matches that of the original landing page. The ad to the landing page to the thank you page should all read like a story.
2. Remove Distractions
Once your lead has converted and been directed to the thank you page, you want them to take some other action that will force them to continue to interact with your brand. Take out links to the homepage, or the like, which will not do anything to assist you in converting the lead in any other way.
3. Confirm the Submission
Make sure the user knows that your business has received their form and you are taking the next action, whatever that might be. Let them know the form has been submitted and either they will be contacted, their order will be shipped, or some follow-up will occur after this.
4. Include a Relevant Offer
Think of your thank you page as another landing page, and another opportunity to make a conversion, as mentioned above. If you are an affiliate marketing company and your original offer was a discount on signing up, you should include a link or on-page ad to a "refer a friend" commission, or something else that would be relevant to the offer they just acted on. Other ideas for additional offers include webinars or coupon codes for other products.
5. Tell Them Why to Follow Your Social Accounts
It's all well and good to include links to your social accounts and hope that people click, but why not give a little push to increase your chances of gaining likes and followers? By including larger social icons with blurbs that mention why they should follow you on social and what kind of content they will see from you, they may be more inclined to click. For example, if you are a domain registrar and this lead just converted on an offer for a discounted domain name, they may be interested in how to design their website or want to learn about simple social media tips to increase traffic to their new site. Letting them know that this is the kind of content you post about on social will be much more likely to get them to follow than simply placing a link to your twitter account.
6. Include Value Added Blog Content
The same concept from above applies to this best practice. Offering free content on subject matter that would interest your lead will allow them to get to know and trust your brand more. If your social accounts post about various categories this lead cares about, they will most likely also care about the original content being created and posted on your blog. Choose to include a blog post that is, again, relevant to your initial offer – make your story continue.
7. Ask them to Subscribe
Let the lead know what kind of content they can expect to receive if they sign up for your email newsletter and provide a simple email submission form to close the deal. From your end, you make sure your drip marketing campaigns provide interesting, trustworthy content that would apply to your leads, no matter where they are in the funnel. Remember, you should use your email marketing to push leads like this down the funnel to make them a customer.
8. Try Including a Video
Videos generally get very high click rates on thank you pages. At this point we can assume the lead is interested in your brand or type of product based on the fact that they submitted your form to receive your offer. This lead is most likely interested in learning more about your brand, how your products work, more details on the offer, or something in that realm. Remember, the idea is to keep this lead engaged with your brand for as long after conversion as possible.
9. Show Off Your Social Proof
Including reviews from current and previous customers, bloggers, reliable news or online sources is an awesome way to seal the deal with your lead and increase their trust with your brand. People like to know how others like using a product or service and will often be more likely to complete a purchase if they see the product got great reviews from others that used the product or service. "As seen on" images, such as "As Seen on The Today Show," or "Dr. OZ," also work as wonderful social proof on a landing page.
10. Let Them Share
Ask visitors to share the offer on their personal social channels or via email. Using the same concept from above, but to an even higher degree, someone will be more likely to make a purchase if someone they know personally has actually emailed them an offer with the assumption that the person they are sending to would be interested in it.
BONUS: Send an Auto Confirmation Email
Make sure you set up an auto-responder email to confirm submission of a form and thank the lead for their interest. This email is an entirely new blank canvas with even more chances to convert a lead in different ways. Include any of the best practices above that you didn't have room for on the original thank you page, or include the same best practices with different content! The point is not to waste an opportunity to touch a lead an additional time and get them to engage with your brand further.
Remember to keep your design clean and your paths to conversion easy for your user to understand. In other words, you probably won't be able to use every single best practice on every thank you page. Choose the ones that are most relevant to the original ad and landing page, and whichever ones align with your most important conversion goals at the time. It's also a good idea to test different thank you pages to see which content resonates better with your leads.
What did we miss? What is you "must have" piece of content on your thank you page? Let us know in the comment section…
Are you interested in earning a second income while working from home?