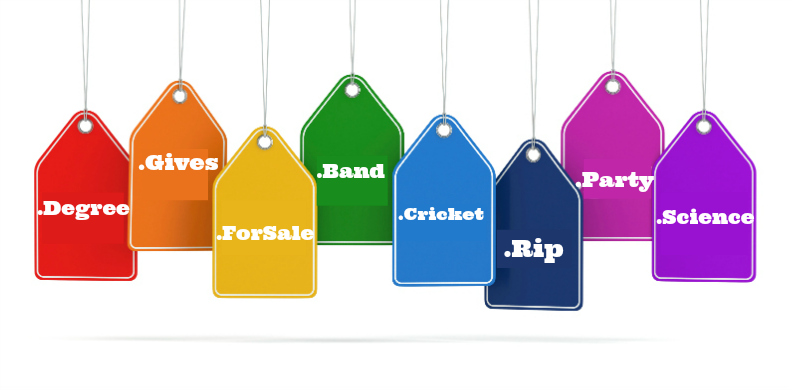 It's no surprise by now that descriptive TLDs, or Top Level Domains, have a number of benefits over the .COM in this new Internet age. With new TLDs being released all the time, getting on the bandwagon and reserving these domains early is beneficial to businesses, individuals, and professional domain purchasers!
These new TLDs can be available a variety of places, but the best place to purchase newly available TLDs for a lower cost is Domain Cost Club. There are plenty of reasons to join a domain club like this, including the discounted pricing on the newest TLDs available on the Internet. The price differences between Domain Cost Club and other domain registrars can be compared below.
The following new TLD options will be available within the first few months of the New Year – so, don't miss out on the opportunity to purchase!
1) Dot Degree (or .degree)
Available 1/14/15.  Membership into DCC gets you this domain for $30, while non-members pay $58. Perfect for various certification businesses, schools, online programs, and more.
2) Dot Gives (or .gives)
Get this one 1/14/15 for $20 with a DCC membership. Non-members pay $38. Charitable organizations, or event charitable events by regular businesses could benefit from this descriptive domain.
3) Dot ForSale (or .forsale)
Ready for purchase 1/21/15, this domain will only cost you $20 as a Domain Cost Club member. Real estate agents, listing agents, and the like would benefit from a domain like this. Non-DCC members can purchase for $38.
4) Dot Band (or .band)
You can buy this one on 1/28/15. Obviously great for musicians, singers, and bands, DCC members can get this TLD for only $15. Get it for $28 without membership.
5) Dot Rip (or .rip)
Available on 1/28/15 for a member price of $12 and a non-member price of $22, this TLD can be used for funeral announcements, funeral businesses, tribute or memorial sites, etc.
6) Dot Cricket (or .cricket)
Fans and enthusiasts of the sport of Cricket can purchase this new TLD on 2/17/15. With a slightly higher price point, members of Domain Cost Club can take advantage of a tremendous discount and acquire this domain for $50, while non-members pay $98.
7) Dot Party (or .party)
Get your hands on this new domain on 2/17/15. Events, festivals, clubs, and even individuals can make great use of this TLD for marketing and promotion. At an extremely affordable price of $19.98 for DCC members, there's nothing to lose! Those who are not members of DCC will pay $38.
8) Dot Science (or .science)
This domain, great for scientists, labs, meds, and the like, will be released 2/24/15. This descriptive domain is priced at $19.98 for members of the club, and $38 for non-members.
These descriptive domains, with all of their immense benefits for marketing and promotion, will go quickly. If you have a business or other use for one of these new Top Level Domains, don't wait – purchase these domains as soon as they are available. Make sure to take advantage of the Domain Cost Club discounts by joining our affiliate network!
Join The Club NOW for Discount Pricing!