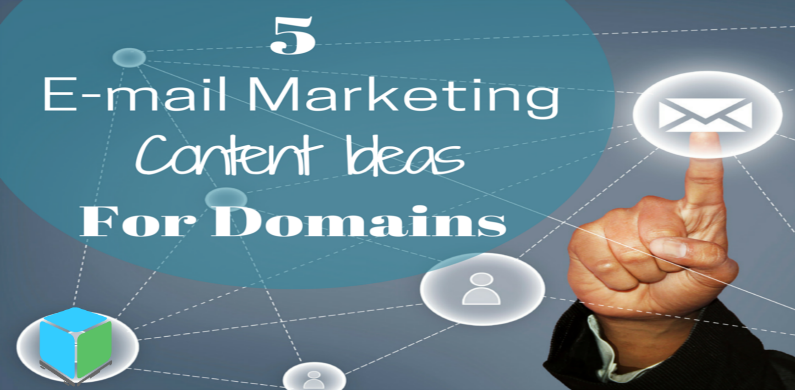 Email marketing is a great way to connect with your customers and potential customers. Done right, email marketing can be cost effective and reach the right people. Email marketing is also a great tool for the domain world. By communicating with your customers and potential customers through email, you've already got one piece of the puzzle figured out–your potential clients are already online and connected. Below we share some tips for email marketing for the domain world, but before you read on, remember the double opt-in requirement for sending marketing emails. People you send this type of email to must agree to receive them using a double opt-in system. This means they submit their email address first to receive them, and then using a confirmation link or manually responding to an email you send, they confirm that they do, in fact, want to receive emails. Not adhering to these rules can get your emails quickly marked as spam, and make your email marketing campaign a waste of time.
An important part of any marketing campaign is good content. But what makes good content for the domain world? Read on for some email marketing content ideas for domains.
News
DCC offers many new gTLDs. These gTLDs are released at different times and often have special pricing associated with their release. Use your emails to tell people about these new releases, as well as what domains will be released soon. DCC offers news of these releases and a quick internet search can give you an idea of more domains that will be available for purchase soon.
Pricing
A big question any one has before buying  a product, and in this case a domain, is, how much does it cost? Your first inkling may be to hold back pricing information on the domains in your portfolio until a customer becomes serious, but this can turn people off. DCC offers up-front at-cost pricing on there website, which drives interest and lets people know more about the industry they may be joining. Consider taking this same approach with your emails. Highlight the prices of your domains or those offered through DCC, including specials, inexpensive domains, and popular domains.
Ideas
gTLDs give you a lot of room for branding and creative use. Get people interested in fun gTLDs by offering them ideas on how to use them. Even better, tailor your email information on domains based on what you know about people. Know an accountant? Email them about the pricing of .accountant. Know someone in digital marketing? Why not tell them about .digital or .social? Share ideas to get others interested.
Your Experience
How did you get into domain sales? What have you learned along the way? Take the time to tell others about your experience and tricks of the trade. This makes domaining seems less intimidating and lets others know that you're available for support.
Encouragement
Every now and then, consider sending a note to encourage others in their business or domain sales. These emails can be a simple as a powerful quote, or a note from you, sharing your recent successes and how others can achieve the same.
Ready to explore being an affiliate for DCC? Click to learn more!