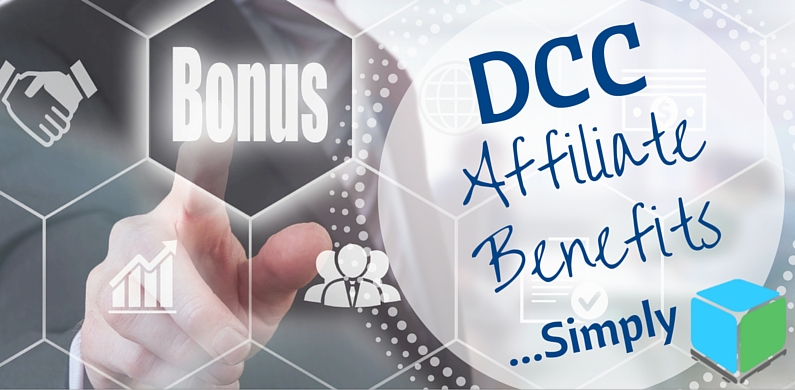 Domain Cost Club is a wholesale domain purchasing service. It works just like places like Costco and Sam's Club. You pay a membership fee for access to wholesale–which often means heavily discounted–prices. This is probably the best benefit of DCC, but there's also many others. Think of how half the fun of going to Costco is the friendly staff and free samples. DCC may not have free samples of cake to share with its members, but the other benefits are pretty good. Read on to learn more about the Domain Cost Club affiliate benefits.
Access
With DCC you get easy access to many gTLDs in one place. There's no need to hunt down the registrar specific to each to gTLD, you can buy many different gTLDs through DCC all at once. Just browse through the domain extensions offered, type in what you want and add it your cart. Add the next gTLD and you're ready to check out.
Commissions
As DCC is a membership club, we want to reward you for your loyalty. With each new member you refer to DCC, you'll earn what we call a bounty. These bounties range from $20 to $200 dollars. So be sure to send interested friends to your direct referral page to learn more about becoming a member with DCC.
Network Building
We invite members to take extra advantage of the DCC membership by building their own network of fellow members. This way you can create a sort of waterfall effect with all the new members that you refer to DCC. You will not only receive commissions for your direct referrals, but also for their referrals and so on through seven levels. A bonus of this is that you can earn commissions each time one of your referrals renews. Sharing DCC and creating members for life continues to pay off for you and your referrals.
Priority Notifications
gTLDs are exciting in that there's always new ones becoming available for purchase. Do you want to know in advance when the next new gTLD is coming out? That's just one of the examples of priority notifications DCC offers its members. As a member you'll also be the first to know about pricing specials, bonuses, and new offerings. This gives you the chances to build your domain portfolio at the price while taking advantage of fun bonuses and new commissions along the way. This feature is available with charter membership.
House Spillover
Not everyone interested in DCC finds out about it through a friend of referral. Some people find out about DCC through search engines, other websites, or word of mouth. Those potential new members don't have someone to show them the benefits of DCC–as a member you can get the chance to do this. Any interested parties, or spillover, are shared among members, giving you the chance to make a new contact and earn some commissions at the same time. This feature is available with charter membership.
Lifetime Charter Member
For a limited time, DCC offers lifetime charter membership. At the one time payment of $499, your pricing for life costs the same as it would if you paid for just 5 years. Aside from this huge discount, charter members can get semi-monthly commission payouts and giftable memberships.
DCC has many benefits for members. Which one works best for you? Learn more about DCC here and get started today.