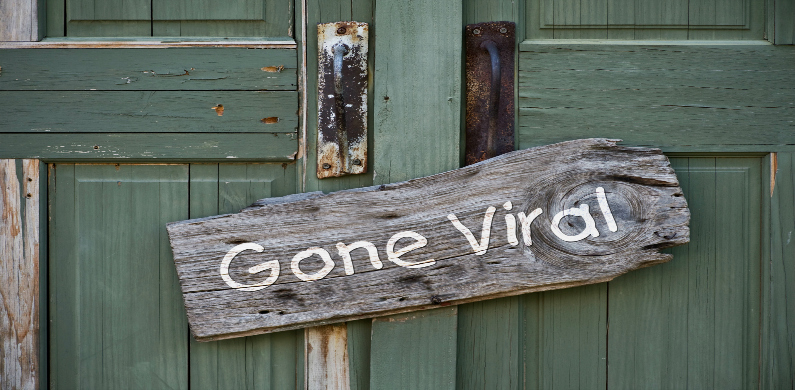 Many believe in the old adage, "build it and they will come." Unfortunately for content, that simply isn't true. You take the time to write a research a topic, write a relevant post that your audience will care about, include the perfect keywords, and for some reason the post just isn't taking off! Whatever your reason for creating original content, namely blog posts, it's important to actually promote and market that content so that it is read and shared by whoever you are targeting.
From free tactics like social media to paid avenues, like affiliate marketing, these 30 ways to increase blog traffic are sure to help your blog get off the ground:
Post your article as soon as it's been written with a "click-worthy" title (even if it's different than the actual title) and an eye catching image set to 1024px x 512px to fit well in the stream.
Post your link with an awesome, standout image (sized at 940px x 788px) and an interesting description that lets the reader know why they should click. It's good to be conversation in your post.
Post your articles as a regular stream update, as well as in the "publication" section of your profile. You can link your content with the title and description to your profile for visitors to be directed to.
It's awesome to post to G+ not only for the SEO benefits with Google, but also for the engaged crowds. You should also join a number of "communities" that would be interested in your content and make sure to post your blogs there as well.
This may not work for every industry, but is extremely beneficial if it does. Create an easy to understand image that can be easily shared across the platform. In other words, create an image with the title of your post and link it back to your blog.
Use the same strategy as above; create a social image that people will want to click, and have it link back to your blog post.
7. Use Hashtags
The use of hashtags are a MUST on almost every social platform when attempting to increase your traffic to that page. It helps to categorize what your content is about, allows it to appear in multiple places within Facebook, Twitter, Instagram, etc., and makes your content searchable to those looking for specific content.
Add the URL to your post on the "add a page" section of Stumble Upon for your post to be included in someone's "stumble path", based on what your content is about. There is also a "paid discovery" option.
This is an awesome resource for consistent bloggers and "influencers." The purpose of the platform is to share great content with other bloggers and marketers and cross promote each other's posts.
10. Use Videos
Every so often, try to integrate a useful video into your editorial calendar for your blog. Upload your video to Youtube, Vimeo, etc. and remember to include the link back to your original post on your blog. Syndication services like TubeMogul can save you time by distributing your video to all of the video platforms.
The Reddit community is one of the most engaged, but also the most honest and sometimes harsh, on the Internet. If users like your content, they will most likely share it, but if your content is merely "fluff," don't bother posting.
These sites feature and send all of their traffic to a new website or blog each day. Submit your link or blog to their website in order to be considered for this influx of traffic.
13. Facebook Social Sharing Groups
Join and consistently share content in Facebook groups that are relevant to your industry and specifically your blog post. Members of groups tend to be more engaged than users simply scrolling their newsfeed, and will be more likely to see your post
Slideshows are a fast growing, interesting way to display your content. Use bite-sized facts and promote your slide share as your blog post. You can also include the slide share in a section of your LinkedIn profile.
15. Guest Posting
Create a stellar article to submit to another highly trafficked blog that is in a similar industry as you. You can gain new "followers," and therefore, new readers with this tactic, as well as links back to your blog.
16. Blog Commenting
Include useful commentary on blog posts that could relate back to yours. Answer a question or provide real feedback to the original writer (to avoid being "spammy") and include a link back to a relevant article of your own.
Also a great place to discover new blog post topics by seeing questions asked by other relating to your industry, Quora is a great place to include your link in a comment. Find questions that you have already answered in your blog posts and include it in your response to that person's questions.
18. Content Aggregators and/or RSS Blog Directories
Submit each post to websites like Alltop for your posts to have the opportunity to be automatically listed for their readers to find. It tends to be difficult to be featured on them, so quality and "share-ability" of your posts will be key.
19. Email List
Make sure you have an easy to find "subscription" box for people to sign up for your email list on your blog. Subscribers will be automatically sent an email containing the link to your new post.
20. Email Top Bloggers
Find influential bloggers in your industry and interact with them via social media and comment on their posts. Then, email them asking to share your published articles for your continued support of theirs.
21. Email Signatures
Include a link back to your blog in your email signature to ensure everyone you email will see a link to your newest post.
Turning a post, preferably one with a lot of data or information, into an infographic is a great way to increase the chances of your post becoming viral. People like to share visuals on their social networks, so include a link back to the original post.
Paste your URL into the "submit a link" feature on the Digg website to potentially have your published article featured.
24. Thank You Pages
It is best practice to include something of value for free on your thank you page, which is followed by your landing page. Include links to your most recent posts and encourage viewers to take a look.
25. Face to Face Networking
Bring up your blog, what kind of content you generally write about and how it can help the person you're speaking with whenever possible. Make sure your blog name is easy to remember or included on your card so the person can easily find you.
26. Affiliate Marketing or Network Marketing
Depending on your product or service, it's known that affiliate marketing is a fantastic way to increase sales. However, it's also a great way to have your posts shared by a large group of people. Affiliates are all working towards the same goal and your content will help their end goal.
27. Facebook Advertising or Boosted Posts
Boost or create and ad out of your Facebook post that contains your article. This will ensure those who would potentially be interested in your content, but are not currently fans of your page, have the opportunity to come across your content.
Listing your product, if applicable, on platforms like eBay, Craigslist, and Amazon can drastically increase traffic to your blog. Make sure whatever you list is relevant to your industry and post, and include a link back to your blog in your listing. It's a free way to get a lot of eyes on your link.
29. Engaging with Your Blog Community
Interact and engage with readers who are already fans of your blog. Turn readers into evangelists who will help you promote your blog simply because they feel they helped "discover" it.
30. WRITE GREAT CONTENT
Making sure the content you are distributing is great, not good, is actually not a bonus; it's the most important part of promoting your blog posts. If the actual content is not valuable, interesting, thought provoking, or evoking of some other emotion, it's useless. Do not forget that the point of your blog posts is to generate leads, not just get someone to read your post.
The most important tactic in gaining traction with your blog that turns into a source for lead generation is effort. It will take time to build up a following, but continue to use these strategies above in order to increase traffic to your blog and promote your blog posts.
Are you interested in earning money as an affiliate marketer? Click the link below to get started!